Cooper
Last updated: August 2021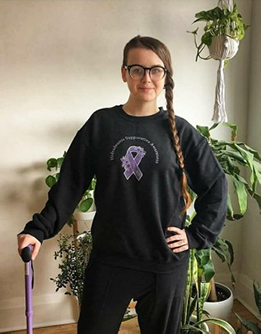 Cooper Corvus (Or Coop, as their friends call them) is a chronically ill & disabled activist with a passion for advocacy, true crime, heating pads, and vegan junk food. They are a non-binary queer who uses She/They pronouns and lives in Toronto, Canada with her 4 rescued pets (2 cats and 2 dogs). Coop is a passionate person who loves music (She plays 10 different instruments) movies, art, and any book she can get her hands on.
Cooper has had HS since she was 13 years old- it was her first of many chronic diagnoses. She is now stage 3 and has tried multiple antibiotics, steroids, surgical interventions, and lifestyle management strategies and is now waiting to start Remicade infusions as the next attempt to put their HS into remission. She has adopted a vegan, nightshade-free, and gluten-free lifestyle to great success. Coop has a family history of HS- her father was one of the first people in Canada to be diagnosed with Stage 3 HS and her sister deals with HS as well.
Coop spends a lot of her time participating in efforts such as online petitions, email & letter campaigns, and phone blitz operations to raise awareness for accessibility needs and inequality in the disabled communities. Her work can be found on Instagram under @chronicallycooper where she shares thoughts about her life as a disabled & chronically ill person.
Click here to read all of Cooper's articles on HSDisease.com