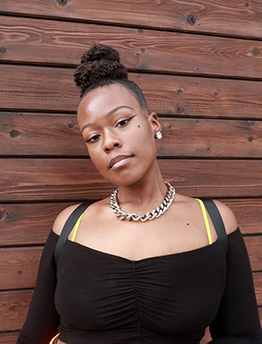 Jasmine "IVANNA" Espy is a journalist and filmmaker from Detroit, Michigan residing in Los Angeles County, California. IVANNA is a 27-year-old living with Hidradenitis Suppurativa. She was diagnosed at the tender age of 11. Since then, it's been her desire to spread awareness and advocate for the community. It's taken her over a decade to be able to speak out about living with HS, but she is finally here. It's her primary goal to empower patients like her to speak out about their experiences to shed light on the community and work on getting the treatment the community truly deserves.
As a journalist, IVANNA writes about her experience with HS for national and local publications such as High Times Magazine, Greatist, Wear Your Voice Magazine, XO Necole, BLAC Detroit Magazine, and HOUR Detroit Magazine. She received a BA in Broadcast Journalism at Wayne State University and a MA in Specialized Journalism Arts at the University of Southern California. For her master's thesis, she wrote, produced, and directed a documentary on HS called My Gold Lining: A Documentary on Hidradenitis Suppurativa.
The documentary is not yet available but she plans on aligning with a streaming service to make it available to all in the summer of 2021. Currently, she is raising finishing funds to put the final touches on the documentary. The funds go toward mixing and mastering the film, adding color correction and motion graphics, along with hiring composers for a custom score and an editor for a re-edit. If you would like to contribute dollars to her initiative, please visit; www.documentaries.org
In addition to her work as a journalist and independent filmmaker, she also works in the film and TV industry as an executive assistant for production and development executives in production studios. It is her goal to also be an executive to develop and produce TV and film reflecting the full experiences of people of color as well as those with chronic illnesses.
IVANNA contributes articles retelling her experience as an adolescent, teen, and now an adult living with HS. Topics to be covered include but are not limited to, wound management, dating, and sex while having HS, using cannabis for pain management and wound healing, caring for your mental and emotional health, how to be an advocate, and so much more. At the end of each article, readers can expect to not only relate but to feel a sense of hope for the future. While we are waiting on a cure it's our responsibility to lift each other up no matter where we are in our journeys.
Click here to read all of Jasmine's articles on HSDisease.com