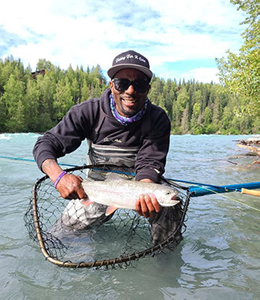 Keevin was previously a health leader on HSDisease.com.
Keevin Collier Sr. discovered his passion for the outdoors at a young and impressionable age. This connection to the outdoors kept him out of trouble as a teen and still influences his life's work today. In 2009 Collier was diagnosed with "HS" (Hidradenitis Suppurativa), a skin disease that lands in the top 5 most painful conditions affecting roughly about 1 in every 100 people in the US. Since 2009, he has endured thirty surgeries and has found that his love for the outdoors has been a useful outlet in his daily pain management. This led to his serving as a Founder & President of the HS STAND UP FOUNDATION.
Collier together with a family of members is dedicated to raising awareness for HS & hopes that his personal story can serve as inspiration for others affected with the condition. In 2015, Collier's dream came true with the launch of a Fishing Comedy YouTube series that went viral shortly thereafter. He became a host for Carbon Tv, Outdoors Hub and made his national television debut on Comedy Central. In 2019 he was inspired to film "Crappie Killa The Movie" an HS Awareness documentary about his own journey, hoping to inspire and help others learning to cope and live with HS. Since 2017 Collier has served as a volunteer for the Oregon Department of Fish and Wildlife and has done volunteer work with the Michigan DNR.
Developing strong relationships, inspiring & helping others is the foundation for everything Keevin Collier Sr. does.
Click here to read all of Keevin's articles on HSDisease.com.