Pooja Parikh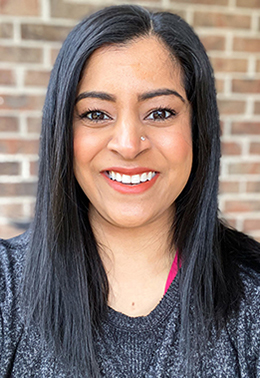 One morning, the summer before her sophomore year of college, Pooja Parikh awoke and could not sit up due to immense pain and pressure on her sternum. What her doctors initially thought was a localized bacterial infection led to over a dozen courses of antibiotics, harmful misdiagnoses, and half a dozen surgeries before she was correctly diagnosed with hidradenitis suppurativa two years later. Little did she know, her experience with the horror caused by the disease had just begun.
In the decade since her diagnosis, Pooja has endured the full spectrum of what HS can entail. From flares that have healed on their own, to ER visits, to antibiotics, to immunosuppressants, to a dozen more surgeries—some that have even saved her life. Through her own experiences and suffering, she has become acutely aware that hidradenitis suppurativa is much more complex and potentially devastating than she ever anticipated.
Pooja has gone from running marathons to completely losing her physical independence, back to running marathons, and back again. Because of her struggles with HS, it took her 6 ½ years to graduate from college; and after 3 ½ years of graduate school, she decided to pursue a life outside of academia.
Through her challenges with HS, she began experimenting with food as she learned the impact it had on her own health. She slowly developed and fostered a passion for cooking, and after she left graduate school decided to pursue that instead. For a time, she worked as a chef at a local health food establishment, but now she works in freelance as a writer, recipe developer, and sales associate.
For much of her life, Pooja strived to be in full control. She thought that if she did not want HS to rule her life, she needed to live her life as though it did not exist. She learned the hard way that ignoring it was not an option. For her, finding stability and joy has meant building a life that creates space for her HS. That accepting it rather than rejecting it has been key to contentment. And she hopes to help others do the same.
Click here to read all of Pooja's articles on HSDisease.com