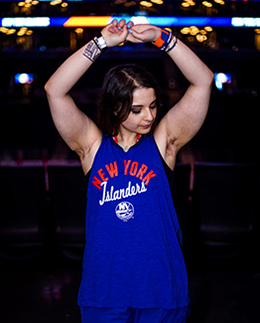 Selina Ferragamo is a 25 year old librarian from Long Island, New York. Although she's suffered from Hidradenitis Suppurativa since high school, she only first found out what it was when she needed to get her first surgery for it at age 22. 3 surgeries later, she still is suffering from HS and hopes to speak out about her experience living with it.
Selina tries to use humor to cope with the pain and runs the Instagram account @Hidradenitis.Selina where she makes memes about living with a chronic illness. With over 5,200 followers, her memes have raised awareness for Hidradenitis while also distracting thousands of people from the pain caused by their own chronic illnesses.
Selina is a proud advocate for Hidradenitis Suppurativa awareness and she's been featured on Thought Catalog and Health Central. Her goal is to make Hidradenitis Suppurativa a household name and wants everyone to know what it is. She suffered from HS for over 5 years without knowing what it was and hopes to raise awareness so no one has to go through that ever again.
If she's not making memes, you can find her reading, drawing, watching the Great British Bake Off, or cheering on the New York Islanders.
Click here to read all of Selina's articles on HSDisease.com