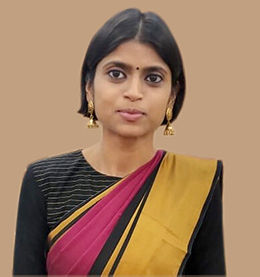 Mandira Harinath is a 32-year-old freelance writer from India. She likes to write about topics related to health, nutrition, and lifestyle. Raised by a single mother and maternal grandmother, Mandira grew up in Bangalore, Karnataka. In her adolescent years, she was a healthy child except for being lactose intolerant. She graduated in Communicative English and Psychology from Jyoti Nivas College, Bangalore, and envisioned a promising career in the field of teaching. She completed her Post Graduate Diploma in International Education and worked as a kindergarten teacher for a brief period before life turned topsy turvy.
At the tender age of 19, bandage dressings, consuming anti-biotics, weekly steroid injections, and visiting innumerable dieticians and doctors had become the "new normal". With no concrete diagnosis on paper, she was left clueless to wonder if there was something seriously wrong with her as none of the medicines, home remedies and even herbal cures had any effect on the open wounds in her underarms that would drain all day long. Exasperated, she quit her day job as the pain had become excruciatingly unbearable. In the coming months, she began noticing similar flare-ups in other areas and became desperate for relief. She had slowly begun to isolate herself from people as she was constantly being criticized for 'looking healthy'. Browsing through online portals, reading various medical journals, dictionaries, books on skin and gut health gave her little clarity but no relief from prolonged suffering.
Mandira decided to move to America for further treatment despite knowing that there was no definite cure for this desolating condition. She had reached a point where she was ready to settle for anything that could bring her relief, even if it was temporary. She was under the care of Dr.Illtefat Hamzavi, a specialist in Dermatology and an active clinical researcher for HS from Detroit, Michigan. Due to a prolonged delay in diagnosis, multiple interconnected lesions had already affected 80% of her sebaceous glands in the underarms. Once they were surgically removed, she returned to India a happy person but the flare-ups followed her like a shadow and in no time they were back. Life had become a lot slower than she had imagined and Mandira found it hard to sustain a job for more than 6 months.
As the prime years of her life kept ticking away, it took her a long time before she could gather courage and restore hope that had dwindled with time. With a super supportive mother at home, regular practice of Yoga and meditation, she has begun to come to terms with the harsh reality of life. She has chosen to deal with each day's problems as they come and most importantly has learned to embrace all facets of herself which have laid the foundation of positive self-esteem. She has been on a journey to improvement after having eliminated many food groups such as nightshades, millets, nuts, rice, and soy.
In recent years, Mandira has chosen to become candid about her life after HS. She has begun to associate herself with online portals and social media groups dealing with managing the condition in India and is also currently a patient advocate at Health Union. She helps people understand the benefits of managing the mind through meditation and Yoga. Despite being trapped in this endless cycle of pain and recovery for 13 years, she continues to peruse her passion for photography and volunteers to teach English for underprivileged children.
Click here to read all of Mandira's articles on HSDisease.com