Hidradenitis Suppurativa (HS) Advocate Hosts 2nd Annual HS Awareness Summit
Managing my Hidradenitis Suppurativa (HS) through the years has taught me that healing can be more beneficial when the mind, body, and soul are addressed at once rather than separately.
As a preteen with HS, I dreamed of being an advocate for the community and organizing empowerment events. What really motivated me was the desire to eradicate the pain my community was feeling. While I don't have that power, the next best thing is producing the HS Awareness Week Virtual Summit helping patients heal their full body, not just parts of it.
Connecting with other people with HS
Being a member of several online and in-person support groups has enabled me to hear directly from patients about the resources they need to manage HS. I've used this as my blueprint for the summit and as an opportunity to bridge the information gap. Originally, the summit was a women's retreat for HS patients, however, COVID redirected that plan and the summit was born. Hosting the event virtually has enabled us to connect with patients across the world and not just the country. It also allows us to record each session and post them to the My Gold Lining Productions & Programming YouTube page.
When I think about true empowerment, I think about providing tools that can be used outside of the summit. Last year we created a booklet that was an introduction to HS and a list of all of the resources and information discussed during the summit. This year we are bringing back the same HS Basics Booklet following the event. The booklet also provides wound care tips, surgery options, online and in-person support group suggestions, and holistic medicine guidance.
The 2nd Annual HS Awareness Summit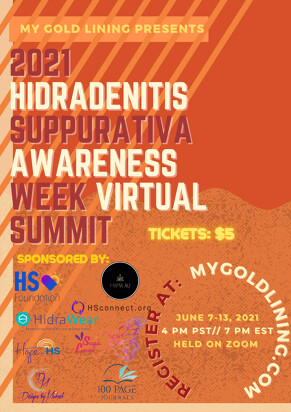 Since releasing My Gold Lining: A Documentary on Hidradenitis Suppurativa patients have reached out to talk about their personal struggles with HS. One of the many things that come up in our conversation are questions about resources, clinics, and holistic remedies. I've been privileged enough to have access to some of the best doctors researching HS. Instead of wishing other patients had the same access, I created a direct pipeline to it.
This is the second year of the summit. Last year was all about the basics. This year we are focusing on understanding HS on a deeper level. Some of the questions we are addressing are: How does epigenetics influence HS? How does HS present on the skin of color and what treatment options are available? How do you tell your HS story? How do you manage stress through energy work? And to top it all off, there's a segment dedicated to caregivers discussing tips, trials, and errors.
Last year we gave away some amazing prizes and this year we plan to do the same. My goal as an organizer is to align with brands creating solutions for the community. Registration is now open on MyGoldLining.com and patients have the option to donate to advance our advocacy and awareness work.
The 2nd Annual Hidradenitis Suppurativa Awareness summit will be held virtually from June 7-13, 2021. To stay in the know, follow @mygoldliningdoc on Facebook, Instagram, and Twitter.
This article represents the opinions, thoughts, and experiences of the author; none of this content has been paid for by any advertiser. The HSDisease.com team does not recommend or endorse any products or treatments discussed herein. Learn more about how we maintain editorial integrity
here
.

Community Poll
Have you checked out our "In Case You Missed It" Series?!