Embracing Vulnerability: Kristen's Journey To Find Her "New Normal"
Last updated: December 2022
The Editorial Team at HSDisease.com is highlighting HS warriors and their journeys in our Voices of the Community interviews. We talked to Kristen, and she shared how she manages her hidradenitis suppurativa and practices self-care.
Editorial Team: How do you tell others about your HS? Is your diagnosis something you share openly or only with those closest to you? Why?
Kristen: My scars are pretty visible and out there. My HS under my arms spread to nearly my elbows on both arms, and I still have 1 wrapped, so it's hard to hide what's going on. I am fairly vocal with having HS, but I've only told those closest to me that I have wounds/lesions in my groin area. I've not been ashamed, but embarrassed. Like yes, I have horrific scars and damage to not only my underarms but also my entire groin/private region. It doesn't feel like it's something to openly discuss on my Instagram stories.
If I'm ever asked about it, I'll talk about it, even if it isn't the most comfortable situation. I do find it easier the more often I talk about it, and I'm only ever looking to spread awareness when I do. I am far from a perfect person, but I find it's easier to understand a situation when you've been educated about it or at least empathetic about it.
Some days I may not be okay enough to go grab drinks as we planned, and some days it may take everything in me to take a shower. It's easier to go on through my life if I'm honest about everything. I'm not trying to be a bad friend, I'm just trying to survive.
Editorial Team: What has been the biggest obstacle you have overcome with HS?
Kristen: Finding a new normal and confidence have all been huge obstacles. My new normal includes the clothes I wear, scars that will forever be a part of me, the diet, and environmental changes made to try to prevent flares. Making sure I stay away from potential triggers and learning how to build a new life around this without letting my disease take control.
But the mental health aspect has probably been the biggest struggle. Not allowing stress or anxiety to take over my life, which has shown to be a huge trigger in my flaring. Learning how to love myself again after the physical and mental beat-down of this disease. Letting others love me and be vulnerable again with romantic partners. Even the constant draining of a wound and the pain can drive a person insane. It's all about how I've learned to manage it and try to live my life as full as I can.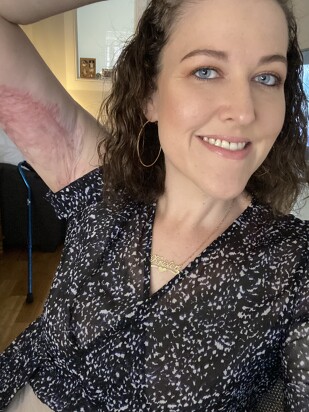 Editorial Team: How do you play an active role in your health? What advice do you have for someone just starting treatment about playing an active role in their health and treatment?
Kristen: Diet and atmosphere has made a world of difference for me! I'm on a biologic for HS and a couple of other autoimmune issues. However, that wasn't enough to keep me out of a flare and living life as I should. Through research and diet (AIP to determine my sensitivities), the best diet I found was nightshade-free paleo. Staying away from trigger foods and eating things that make my body thrive has been the biggest game-changer! I love cooking too, so it acts as a form of therapy when I'm in the kitchen, getting my creative juices flowing (literally). I try to move as much as my body will let me but also listen when it needs rest.
Healing takes time, and being patient isn't easy but it's necessary to give your body some grace. I make sure to have plenty of self-care, including mental health self-care. I may need to be on a biologic for my life, but there's more needed to heal. Once I got rid of the toxins in my life (metaphorically and literally), I saw my quality of life finally worth something again. I also make sure I communicate as much as I can with my doctors – sometimes all it takes is an iron infusion during a flare to help you feel like a person again!
This article represents the opinions, thoughts, and experiences of the author; none of this content has been paid for by any advertiser. The HSDisease.com team does not recommend or endorse any products or treatments discussed herein. Learn more about how we maintain editorial integrity
here
.

Community Poll
When you need to vent about HS, who do you turn to first?